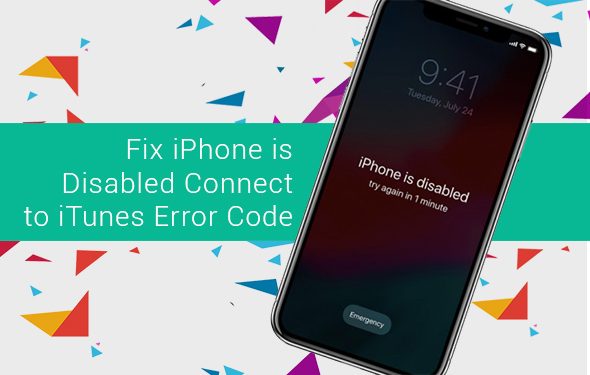 We all know that iPhone provides an impermeable security to their users. So, when you enter the wrong password many times back to back, this problem occurs. In simple words, the iPhone is giving you an alert that there is an error on your iPhone and you can remove it by connecting to iTunes. We all know that each and every problem has its solution. In this article, we will provide some easiest and quickest steps to solve the problem. To fix this type of error you don't need a full bag of Mobile knowledge or any repair tools. Just you have to follow our guidance carefully:
Situation You Might Face:
For 6 incorrect guesses, you will see 'iPhone is disabled. Try again in 1-minute' message on the iPhone screen.

For 9 incorrect guesses, the error message could be 'iPhone is disabled. Try again in 60 minutes'

For 10 incorrect guesses, the message will be 'iPhone is disabled connect to iTunes'
You can unlock the iPhone by connecting to iTunes by erasing the iPhone data. So, be sure that you have backed up all your important information.
What Does The Error Message Mean?
This error message means you have entered the wrong security code many times on an attempt or someone wants to steal your iPhone. When you enter the wrong passcode at the maximum limit then and there iPhone automatically locked down to protect itself for security purpose.
Effective Ways To Solve iphone is disabled connect to itunes Issue
As we mentioned above, when you have exhausted the maximum tolerance (10 attempts), you will face the error message on the screen. In this situation, you will need to erase the iPhone data by restoring via iTunes or iCloud. Let's see how to fix this problem:
Restore the iOS Via iTunes
Windows or Mac users can install the iTunes on the PC. After installing it, you have to run the iTunes on PC. Then follow the steps:
Connect the iPhone to the PC and wait until the sync is complete. Then, create a backup of iPhone data.

Once the sync is completed click on 'Restore' on your device.

Next, you need to choose 'Restore from iTunes backup' option. Then, select your device and wait for some time.
Use Recovery Mode
This process will remove all data from your phone. So, backed up and follow this process:
Connect the iPhone to the PC and open the iTunes.

If you are an iPhone X, iPhone 8 or iPhone 8 Plus user then press and release the Vol up button. Do the same with Volume down button. After that, hold the side button until the recovery mode comes on the screen.
If you are an iPhone 7/7 plus user, then hold both the side and vol down buttons together. Keep patience until the recovery mode comes up.
If you are an iPhone 6s or earlier, iPad user then you have to hold the Home and Top button together until the recovery mode comes.
Then select 'Restore' button and wait until the iTunes install a new OS. The whole process will take up to 15 minutes. After that set up again your device.
Alternative Way To Restore The iOS Device By iCloud
It is a little bit complicated process than the above steps. It requires that your disabled iPhone has the proper data connection and make sure that you set up 'Find My iPhone' previously. If all conditions well then go through this steps:
From PC, open the browser and type 'iCloud.com' on the URL bar then hit 'OK'.

Next, tap on 'Find iPhone' on the Webpage.

Enter the required password to log in to the Apple account. Be sure that this is the same account that you have logged in your iPhone.

Now, wait until a map appears on the screen with the live location of your device. Next, you have to click on the 'All Devices' option at the top.

Then choose the iPhone you want to format or erase, then tap on 'Erase iPhone' option.

If successfully erase the data then you can set up the iPhone as a new device.
Conclusion
Hopefully, this article will help you to fix iPhone is disabled connect to iTunes on your own. If you have any confusion with the provided step then comment us on below with that particular problem. we will give our best to fix your problem. Further, if you needed any kind of iPhone repair and services you can connect with uaetechnician.