Get Best-in-Class Samsung Cctv Installation Services: Reach Us For Assistance
If you are encountering problems related to theft, productivity or threat, CCTV is the first line of defense. CCTV cameras play an important role as it provides us with advanced security solutions. People blindly rely on these cameras to ensure safety in their homes, offices, schools and many other places as well. Hence any issue with these cameras are not acceptable.  In case you are searching for Samsung Cctv Installation in Dubai, contacting the experts at UAE Technician is the best option.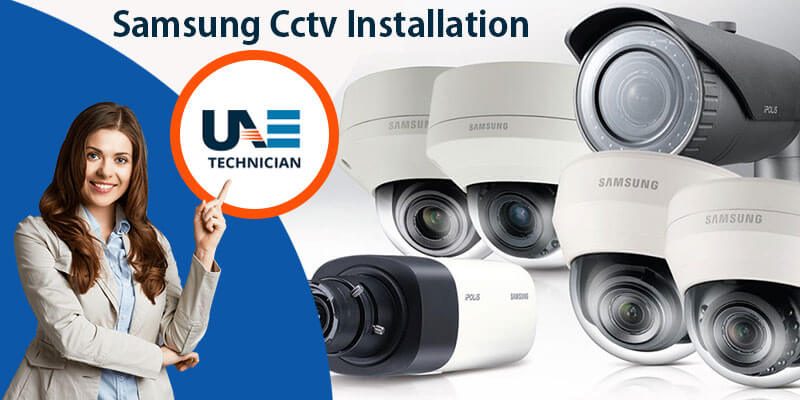 Samsung is a leading manufacturer that excels in producing high-quality surveillance devices. It offers a wide range of CCTV cameras such as Fisheye security camera, Dome security camera, Full-body CCTV camera, etc. To ensure proper functioning of any CCTV camera, you need to install it correctly. If the camera is not installed correctly, it might generate various problems that might affect your security system. Although CCTV cameras can be installed with a couple of easy steps, users are still encountering issues. Some of the common Samsung cctv problems include:
If the network camera not working correctly
If there is an error during compression
Problem arises during video management
If there is a storage problem
If there is a problem in analog cameras and wireless networking
These are the problems that might hamper your CCTV from working smoothly. Take expert's help in Dubai and avail easy steps that will make your task easier. The experts at UAE Technician are the best in this case. We try to offer effective services for your Samsung cctv problems according to your convenience.
Connect with our experts for trusted solutions:
Searching for reliable Samsung CCTV repair services? Then you are in the right place. UAE Technician is the best to choose from when it comes to CCTV installation in Dubai. Our team delivers excellent services instantly at the most nominal price. Our experts are well-trained and experienced in dealing and settling issues related to CCTV cameras. We provide guidance that will help you optimize the performance of your device. We also guide our users through easy troubleshooting steps that are helping them to settle the worries patiently. Connect with our executives and share your worries, and we will provide you with the most effective solution in less possible time.
Our services are available at any odd hour of the day for your assistance. Before choosing us, have a glimpse of the services that we offer for your Samsung CCTV camera.
Help to arrange Samsung Digital Video recorder
Assist in pre-purchased Samsung CCTV full package installation
Guidance for Wireless Samsung IP cameras settings
Site assessment for perfect Samsung Camera placement
Routing of cables from main power switch to camera and back to DVR
Guidance for maintaining Samsung CCTV camera
For further assistance dial our helpline number: 045864033
Whenever you are troubled with your CCTV camera or maintenance problems, contact our repair team for the best-proven results. We provide a practical solution that helps to eliminate the issues without any disturbance. UAE Technician excels in resolving any complicated worries that you keep on encountering with your CCTV cameras. You can also opt for our online services during your busy working hours. Our CCTV Technician Team is always enthusiastic to cater to you at the time of your need. Reach us soon by dialing our repair service number: 045864033 for outstanding Samsung CCTV maintenance services. Choose our repair services and get rid of your CCTV worries. We also provide Dahua CCTV installation service in Dubai