Photocopier Repair Services in Dubai : We Will Fix any model within minimum time
At UAE Technician, we understand that how a printer, photocopier, fax machine break down can affect your work. Our primary goal is to bring you back into business as soon as possible. We provide you best repair services in entire Dubai. No matter where you reside, with the help of onsite assistance we deliver services at your door-step so that you don't have to search for a photocopier repair service center near your location.
With extensive technical experience, we have served multinationals as well as medium-sized enterprises. Our 100% track record of success has enabled us in delivering you excellent services.
What is our area of specialization?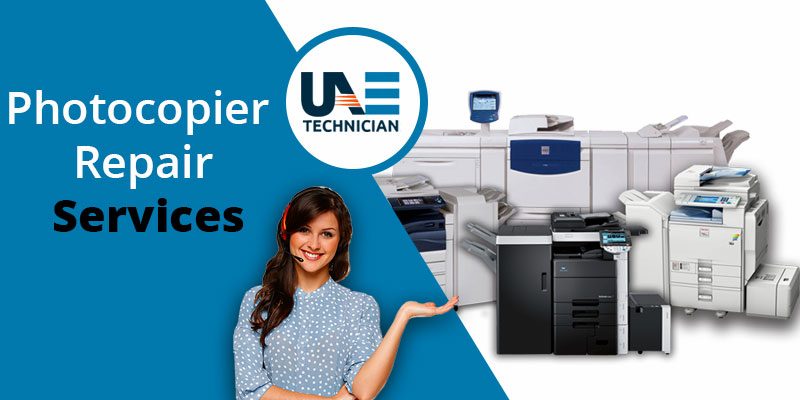 A standard printer or copier can fulfil requirements of a household or an individual. When it comes to organizations, a lot of paperwork take place. Here a photocopier is a solution as the printer will cost you a lot of money. But proper maintenance and service are required to keep this device in a better shape. When it comes to servicing a photocopier machine, it is more than changing the cartridges.
For your convenience, we offer 24*7 helpline. Here, our experts are always available to guide you when any technical issue comes in your way. Our specialists follow an approach where first they evaluate the problem which is hampering the performance of the machine. After evaluation, a diagnosis is given to you about the issue following the options with which we can fix it. After getting your approval on the chosen service, we move forward with applying the procedure. Following are the situations in which we can offer services.
Photocopied pages are not in correct order.
Part replacement
Photocopied paper is blank.
The wrong original is copied
The pages are too dark or too light
Photocopied pages do not look the same as the originals.
Black spots appear when photocopying a photographic print.
Appearance of moire pattern
The photocopied paper is dirty
Drum problem
Issues in taking documents inside correctly
Noise during copying
Cartridge problems
Photocopier annual maintenance Dubai
Our engineers are experienced and have vast technical skills which can take care of all your copier repair worries. With the help of frequent training and complex case handling, we have been able to provide you solutions which are efficient and productive.
Due to numerous issues, we invest a lot in the repair of the machine where we can avoid this by opting for servicing in few months interval. It will help in maintaining the health of equipment, and you will encounter less downtime. With our service, you can keep your machine safe from any critical damage.
Why should you choose UAE Technician as your service provider?
When a customer recommends a service provider to others, it reflects the satisfaction level which we achieve. We have got many customers through referrals which have made us come up with extra benefits when you choose our support services for your equipment. Not only we deliver quality solutions, but we focus on providing affordable options. Following are the benefits if you join hand with us.
Transparent transactions
All parts carried for convenience
Professional service and advice
New and used equipment sales
All consumables
Fast, efficient delivery
We use only genuine parts
If quality and excellent service is your benchmark, then contact us and experience best in class solutions without stepping a foot outside your house as our guidance and support is just a call away.