Tablet Repair Services in Dubai: 100% Reliable and Transparent Solutions
Technology keeps on evolving with time. When laptop came into the market, everyone was pleased by the flexibility it provided while working. But then the era of tablets began. Manufacturers took the benefit of touch screen technology and made a more efficient and space-saving gadget. When tablets hit the market, it became a trend for people from all generations. It had all the feature of laptop and mobile which made it the best option for keeping work and contacts together. But it can happen that due to some malfunction or accidental spillover you can end up with a damaged device. Here UAE Technician can help you. We provide best in class tablet repair services in entire Dubai. With our vast reach, we have served to several individuals and organization from far edges.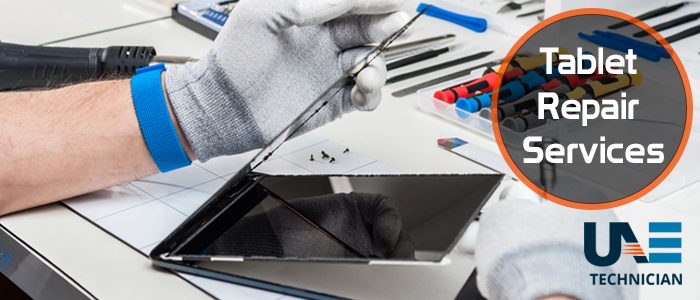 We believe in achieving success through customer satisfaction.  It has enabled us in offering quality support services through 24*7 helpline system. One of our experts will always be available to guide you whenever a situation of damage occurs.
Fast & Assured Tablet Repair Dubai Services
Hardware malfunctions and software glitches can prevent your tablet from working properly. But, you can fix these critical problems with our professional assistance. Being a leading tablet repair Dubai company, we strive to offer best-in-class services.
No matter which Android or iOS tablet you use, UAE Technician is always ready to help you. If the tablet is not turning on even after installing a new battery, contact us. Our certified technicians will offer you a guaranteed solution to restore the device's functionality.
Moreover, our professional experts can repair every hardware unit of your tablet. Whether the screen or control buttons are broken, hire our technicians for an instant fix. Moreover, we can assist in resolving the critical tablet software problems that you may encounter in the long run.  
Is your tablet turning on and off repeatedly when working on an app? Don't worry! Look for a tablet repair shop near me and book our reliable experts. Our technicians will opt for an in-depth analysis to determine the cause of the problem. We will eliminate the issue within minutes so that you can use the device without glitches.
We offer premium quality repair services for these tablet brands:
Samsung

Xiaomi

Realme

Nokia

Lenovo

Moto

Apple and other popular brands
Common Tablet Repair Dubai issues, We Deal With
UAE Technician is committed to offering effective solutions to all your tablet-related issues. We ensure the major-minor technical glitches are resolved without downtime. Moreover, our professionals have been dealing with faulty tablet parts for years.
More than 100+ customers trusted us to eliminate the software/hardware problem from their tablets. Besides, we have joined hands with skilled tablet repair experts. Whether you're experiencing power or connectivity issues, we have a solution for every tablet error.
Seek our immediate assistance if you encounter the following tablet problems:
The Tablet is not Charging
Is your tablet not charging even when it is connected to the power adapter? Ensure the power cable is secured properly to the charger. Disconnect and reconnect the charger cable and check if that resolves the problem.
If the charging issue persists, the tablet might have a faulty charging cable. A malfunctioned charger can also be the reason behind this tablet issue. Moreover, dust or debris can accumulate inside the Apple or Android tablet's charging port.
The dust or dirt buildup can restrict your tablet from charging properly. Without removing these contaminants from the port, you can't charge the device. Thus, hire our tablet repair Sharjah experts and clean the charging port easily. We will also replace the power adapter or charging cable if required.
Touchscreen Not Working
An unresponsive touch screen can prevent you from using the tablet. Therefore, if the touchscreen is not working, instead of using any D-I-Y solutions, book our experts. Our professional tablet repair Dubai experts check the source of the problem and fix it in minutes.
Usually, the touchscreen issue occurs due to damaged screens. Malfunctions in the touch sensor can also lead to this tablet issue. Hence, our tablet repair Sharjah experts will check if there is any sign of structural damage on the screen. 
If there are hairline cracks on the tablet's display, we will replace it immediately. Moreover, our professionals will inspect the touch sensor thoroughly. They will change the existing touch sensor with a new one to resolve the issue.
App-related Problems
Sometimes, third-party apps can generate technical problems when using the tablet. Closing these problematic apps can help you to fix the issue. However, if that doesn't work, you might be using out-of-date apps on the device. 
Update these apps and check if that resolved the technical glitch. If the apps continue freezing, there might be insufficient storage on your tablet. Clear up the device storage to fix the issue. If the error persists, look for a tablet repairing near me and consider hiring our experts. 
We will check the root cause of the app freezing/crashing issue and solve it without downtime. Moreover, this complicated app issue can occur due to misconfiguration. So, our professionals will modify the tablet settings to help you to overcome the problem.
The Tablet is Stuck in Portrait Mode
If you watch your favourite shows on your tablet, you might have set up the video orientation in Portrait Mode. You can easily switch to Landscape mode from the device's portrait mode. 
However, if the screen is stuck in portrait mode, close the app from where you're streaming online content. Disable the tablet's screen orientation feature and check if that solves the issue.
If the tablet's screen is still stuck in portrait mode, book our tablet repair me experts. Our professionals will check and modify the tablet's video orientation option. Sometimes, the tablet might be stuck in portrait mode if the streaming app is outdated. So, we will also update the problematic apps to resolve this technical issue.
Wi-Fi Connectivity Issue
Are you facing difficulty connecting the Android tablet to Wi-Fi? Make sure the wireless router is on and is close to the device. Otherwise, you might experience network issues when browsing the internet.
Moreover, you can't access the internet if the tablet is connected to an out-of-range Wi-Fi network. Disconnect the device from the existing wireless network. Reconnect your tablet to a Wi-Fi network that is within range. If that didn't work, your tablet might have incorrect network settings.
Look for a tablet repair near me and hire our professional experts. Our technicians will check the primary reason behind the tablet's Wi-Fi connection error. They will reconfigure the device's network settings to restore its internet connection. 
Exclusive Tablet Repair Dubai Services, We Offer
UAE Technician is the ultimate destination for repairing worn-out tablet parts. Whether the speaker or camera isn't working, contact our experts in tablet repairing near me. Our technicians will evaluate the existing tablet unit's condition and repair it quickly.
Being a reputed tablet repair Dubai company, we ensure our customers get quality-ensured tablet parts. Besides, our professionals are available round the clock to fix the water-damaged internal units. So, book our services and repair the tablet from the best technicians in Dubai.
Here is the list of table repair services you can trust us with:
Tablet Screen Repair/Replacement Services
Out of all the tablet components, the screen is the most fragile one. It can break into pieces after an accidental drop. But, never buy a new tablet if the existing one has a cracked screen. Instead, book the technicians at our tablet repairing near me. We will replace the damaged tablet screen for you.
Are there horizontal lines on the tablet screen? It indicates the device has a damaged screen which needs immediate replacement. Don't try to replace the faulty tablet screen without our expert's help. Hire our tablet repair Dubai specialists, and rest assured.
Book our emergency tablet screen replacement services if you encounter these issues:
Black spots on the display

Discolouration issues

Blurry or faded image
Tablet Charging Port Repair/Replacement
Repairing your tablet's broken charging port can be nerve-wracking. This is where our tablet repair Dubai experts come to your service. We have joined hands with a team of technicians who have immense expertise in repairing a tablet's charging port.
Moreover, pins inside the charging port can wear out over time due to overheating. Without repairing these pins, charging the tablet might be impossible. Thus, look for a tablet repair shop near me and contact our experts for an instant charger port repair. 
Book our tablet charging port repair emergency services if you experience these issues:
The tablet is plugged in but not charging

Slow charging

Corrosion on the charging port
Tablet Control Button Repair/Replacement
Do you need to replace the broken power button on your tablet? Hire our tablet repair Dubai experts and replace the power button within minutes. We also have extensive knowledge in repairing the defective volume buttons of a tablet.
If the device's volume isn't increasing even after pressing the control button, contact us for immediate help. We will check the existing volume button thoroughly. If it has any sign of wear and tear, our trustworthy technicians will replace it without downtime.
Additionally, we assist in repairing and replacing the tablets' home buttons. If the device's home button isn't responding, book our services. Don't forget to mention your tablet's brand and model number. Based on that, we will assign the home button repair work to a qualified expert.
Our tablet repair experts deal with the following control button issues with ease:
Broken power/home button

Missing home button

Stuck power and volume buttons

Unresponsive control buttons
Tablet Camera Repair/Replacement
Is the Apple tablet capturing blurry pictures? There is a high chance that the device's camera lens is dirty. Try to clean the camera lenses with a microfiber cloth and check if that improves the picture quality. If the issue persists, then something is wrong with the tablet camera.
Don't try to repair the Apple or Android tablet camera by watching online video tutorials. It can cause unpreventable damage to the device's camera lens. Instead, hire our tablet repair Dubai experts and repair the camera at an affordable price.
Be it a rear or front-facing camera, our professionals can repair every tablet. Moreover, we have the requisite tools to replace broken camera lenses. We will also update the camera app so that you can capture pictures or record videos without glitches.
Tablet Speaker Repair/Replacement
Your tablet might generate a crackling noise if something goes wrong with the speaker. Sometimes, third-party utilities can cause audio problems on your tablet. Thus, you must consider uninstalling these problematic apps to fix the sound glitch.
If that doesn't solve the issue, check your tablet's audio settings. Try to modify the device's audio configuration to improve the sound quality. If you still hear no sound from the tablet speaker, schedule an appointment with our experts. We will inspect the speaker thoroughly and repair the built-in speakers if required.
Look for tablet repair near me and repair the speaker with our professional assistance if you experience these issues:
Distorted sound

Low sound from the speaker

The tablet speaker is buzzing
How Does Our Tablet Repair Dubai Services Work?
We have designed an easy-to-access and precise booking procedure for our customers. Ensure to follow 3 steps to repair the unresponsive tablet from the best tablet repair company in Dubai.
Tell Us What You Need
We offer a broad spectrum of tablet repair Dubai services to fulfil all your requirements. Choose the right one from the list and fix the device with our professional's on-site assistance.
Schedule an Appointment
To know the tablet repair cost, book an appointment with our vetted technicians. Ensure to mention the software or hardware problem you're experiencing when booking the service. 
Repair the Faulty Tablet Part
We are backed by licensed and highly trained tablet repair technicians. Our professionals will diagnose the cause of technical problems and fix them within the stipulated time frame. 
Why Should You Rely On Our Tablet Repair Dubai Services?
UAE Technician is an eminent tablet repair company in Dubai. When it comes to on-time delivery, professionalism and reliability, we are hard to compete with. Moreover, our professionals never compromise the quality of the services.
Here are the reasons to book our top-notch services:
We provide 100% genuine and compatible spare parts for your tablet.

Our technicians offer guaranteed solutions at a reasonable price.

We perform critical tablet repair work undertaking laboratory facilities.

All your tablet-related issues get our top priority.

Our experts use advanced tools and techniques to fix damaged tablet units.
Best Tablet Repair Dubai Technicians are a Call Away!
Do you have any queries regarding our tablet repair services? Don't hesitate to contact our customer support executives. They provide quick responses to clear out all your service-related doubts.
So, what are you waiting for? Request a service quote and repair the broken tablet parts within minutes. 
Damage can be critical or small. For us, it is just going to take minimum time in repairing it.
Our specialists have experience in handling various damage cases. From complicated to simple technical issues we have gained expertise in dealing with multiple damage situations. Every member of the team goes through frequent training sessions so that they can deliver what we promise. Following are the services which we offer.
Tablet repair & maintenance support
Screen Replacement & Repair
Cell Phone Antenna Replacement
Tablet Data Recovery
Power Button Replacement & Repair
Charging Port Replacement
Cell Phone Keyboard Replacement
Speaker Replacement & Repair
USB Port Replacement & Repair
Data backup and data transfer benefits
Virus and spyware protection
Broadband access help
Software and application installation
Tablet shield protection
Memory Card Reader Replacement & Repair
Home Button Replacement & Repair
By keeping your comfort our priority, we provide you onsite assistance for all technical repair requirements. When you find yourself in a situation of a dead device, a monotonous search for the service provider begins. By just calling our support service you can find a technician near your location. Without setting a foot outside your house, you will get quality assistance. We have gained experience in repairing tablets by working on distinct brands. Following are the tablets which we can fix.
HTC tablets
iPad tablets
Samsung tablets
Asus tablets
Lenovo tablets
Toshiba tablets
Sony tablets
Alcatel Tablet Repair
From screen replacements to dock connectors, we can take care of any damage situation. Our repair solutions are fast, affordable, and productive.  We also offer a limited warranty period to ensure that your device is in the right hands.
Benefits of choosing UAE Technician for Tablet repair in Dubai
You may feel insecure while choosing a repair service. Consumers often doubt repair service provider that whether they are using genuine parts or how much time it will take to get your device back. To ensure that you have peace of mind, we offer transparent services. We keep our promise of only using genuine parts for replacement. Following are the benefits which you can have if you join hands with us.
24*7 assistance from experts
Transparent transactions
Use of genuine parts only
Onsite repair
In the past, you may have gone from center to centre for repair of your tablet, but now guidance and treatment of the device is just a call away.
 FAQ – Tablet Repair Service                                  
 What types of tablets do you repair?
We offer repair services for a wide range of tablets, including iPads, Android tablets, Windows tablets, and more.
What types of issues can you repair?
Our expert technicians can handle a variety of tablet problems, including screen replacement, battery replacement, charging port repair, software issues, water damage, and more. 
How long does it typically take to repair a tablet? 
Repair times can vary depending on the complexity of the issue and the availability of replacement parts. 
Do you use genuine replacement parts for repairs?
Yes, whenever possible, we use genuine replacement parts to ensure the highest quality and compatibility with your tablet. 
What is your warranty policy for tablet repairs?
We stand behind our work, and most of our repairs come with a limited warranty. The specific warranty period depends on the type of repair and the parts used. 
Do I need an appointment for tablet repair?
While appointments are not required, they are recommended to ensure that we can provide prompt service. However, walk-in customers are always welcome.
How much will my tablet repair cost?
The cost of repairs can vary widely depending on the type of tablet, the specific issue, and the parts required. 
Do you offer mail-in repair services? 
Yes, we do offer mail-in repair services. Contact us for instructions on how to securely package and send your tablet to us for repair.