Tablet Repair Services in Dubai 2022: 100% Reliable and Transparent Solutions
Technology keeps on evolving with time. When laptop came into the market, everyone was pleased by the flexibility it provided while working. But then the era of tablets began. Manufacturers took the benefit of touch screen technology and made a more efficient and space-saving gadget. When tablets hit the market, it became a trend for people from all generations. It had all the feature of laptop and mobile which made it the best option for keeping work and contacts together. But it can happen that due to some malfunction or accidental spillover you can end up with a damaged device. Here UAE Technician can help you. We provide best in class tablet repair services in entire Dubai. With our vast reach, we have served to several individuals and organization from far edges.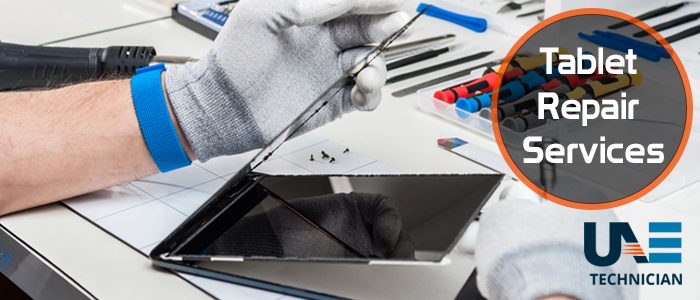 We believe in achieving success through customer satisfaction.  It has enabled us in offering quality support services through 24*7 helpline system. One of our experts will always be available to guide you whenever a situation of damage occurs.
Damage can be critical or small. For us, it is just going to take minimum time in repairing it.
Our specialists have experience in handling various damage cases. From complicated to simple technical issues we have gained expertise in dealing with multiple damage situations. Every member of the team goes through frequent training sessions so that they can deliver what we promise. Following are the services which we offer.
Tablet repair & maintenance support
Screen Replacement & Repair
Cell Phone Antenna Replacement
Tablet Data Recovery
Power Button Replacement & Repair
Charging Port Replacement
Cell Phone Keyboard Replacement
Speaker Replacement & Repair
USB Port Replacement & Repair
Data backup and data transfer benefits
Virus and spyware protection
Broadband access help
Software and application installation
Tablet shield protection
Memory Card Reader Replacement & Repair
Home Button Replacement & Repair
By keeping your comfort our priority, we provide you onsite assistance for all technical repair requirements. When you find yourself in a situation of a dead device, a monotonous search for the service provider begins. By just calling our support service you can find a technician near your location. Without setting a foot outside your house, you will get quality assistance. We have gained experience in repairing tablets by working on distinct brands. Following are the tablets which we can fix.
HTC tablets
iPad tablets
Samsung tablets
Asus tablets
Lenovo tablets
Toshiba tablets
Sony tablets
Alcatel Tablet Repair
From screen replacements to dock connectors, we can take care of any damage situation. Our repair solutions are fast, affordable, and productive.  We also offer a limited warranty period to ensure that your device is in the right hands.
Benefits of choosing UAE Technician for Tablet repair in Dubai
You may feel insecure while choosing a repair service. Consumers often doubt repair service provider that whether they are using genuine parts or how much time it will take to get your device back. To ensure that you have peace of mind, we offer transparent services. We keep our promise of only using genuine parts for replacement. Following are the benefits which you can have if you join hands with us.
24*7 assistance from experts
Transparent transactions
Use of genuine parts only
Onsite repair
In the past, you may have gone from center to centre for repair of your tablet, but now guidance and treatment of the device is just a call away.