Server Data Recovery Solutions in Dubai: A Service Provider You can depend upon
When you are handling business, it generates a huge amount of data. To keep it safe you depend upon servers. It allows a secure storage and multiple accesses at any time. Due to its feature of keeping back up copy and security from online threats, it has become a trend to use servers as a storage option. Ruling storage industry since three decades it has made its place prominent. But the loss of data can occur with any device, as nothing can provide you with a permanent solution. Drive failure, corruption, controller failure and many more reasons can be the cause of collapse which can lead to data loss. We are here to help you with server data recovery in Dubai through our services.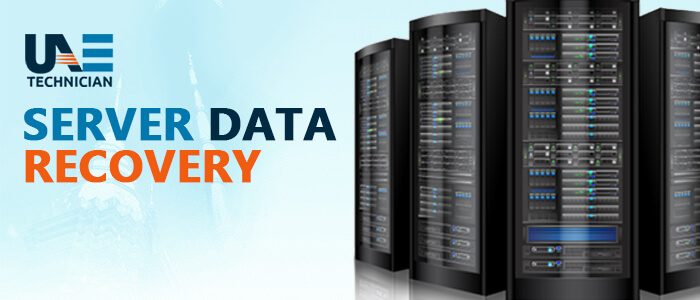 UAE Technician can be your one-stop solution for all server data recovery issues. We offer recovery services for various types of storage systems like NAS, RAID, and SAN. Risk-free recovery is our priority which we achieve through our team of skillful experienced employees. We have been working in Dubai for many years which have given us a notable place as a leader in the industry.
We protect and recover data with quality and efficiency(Server Data Recovery)
You can face critical hardware and software issues if your business depends entirely upon large-scale servers.  It may happen that the server experiences a functional failure which can lead to downtime and data loss as well as massive reconstruction costs.  Following are the situations where we can offer you guidance.
Fire/Flood Damage
Multiple Hard Drive Crashes
Corrupt or Damaged Partition Table
Drive Not Booting – Missing or Deleted File/Directory
Rebuild RAID Failure
Clicking Drive(s)
RAID Controller Failure
Damaged Striping
Inaccessible Drive(s)
Formatted Drive(s)
Failed Software or Operating System Upgrade
Lost or spoiled RAID Configurations
Restore database with norecovery
Msdb recovery pending
Database in recovery mode sql server 2012
Distributed commit and recovery
Transaction consistent checkpoint
Ssisdb recovery pending
Msdb in recovery pending state
Adventureworks2012 recovery pending
Restore with standby
UAE Technician can recover data from a variety of servers with different models.
With extensive research on data loss situations and years of experience, we have developed latest tools and techniques. Our team has specialization in handling all logical and physical damage circumstances & provide you with server data recovery. Following are the services which we provide.
Server database recovery
Recovery from troubled windows server
LINUX server recovery
UNIX server Recovery
Computing systems, mail servers, and other virtual data for businesses and companies of all sizes.
We have developed facilities which are certified by class 10 ISO 4 Cleanroom and Class 10 ISO 4. It helps us in delivering efficiency and quality. We regularly test our Cleanroom to comply with the strict standards to ensure we provide you the best.
Why should you choose UAE Technician?
We believe that your valuable data is the foundation for work. Our data recovery specialists are available to support you every day. With the help of 24*7 assistance service, we offer consultation for every server data recovery issue. By guiding you, we make sure you don't further the damage already caused. We ask you some questions like
What are your hardware, configuration, virtualization software and back up procedure?
Assess possible failure points and the server data loss situation
Guide prevent further data loss
We evaluate the possibility of a Remote Data Recovery
Advise on preparations for an In-Lab Server Data Recovery
Once we receive approval on diagnosis report and quotes for the price from your side, we start the procedure of recovery on cloned drives. It is analyzed for the movement of data and parity strips so that we can develop customized software by stimulating the RAID controller algorithm.
Data recovery is a difficult task. To ensure security and quality in service choose UAE Technician and get latest solutions for all your recovery issues.