Huawei Matebook Repair Service Center in Dubai: Guaranteed Solutions for Any Damage
With the fast-changing technological world, it becomes a requirement for manufacturers of gadgets to match the pace with it. Now consumers are looking for innovation as well as excellent user experience in devices. Huawei MateBook Signature Edition 2 in 1 PC Tablet is one of the examples which has presented a convertible option of a tablet which can transform itself into a laptop with the help of a keyboard which can wrap around the device. With outstanding features, it has become the first choice for people who give preference to devices which have multiple uses. But, to maintain the gadget, you need a proper support service. UAE Technician is an expert who can take care of all damages and can repair any part with efficiency of Huawei Matebook
From a slow running laptop to a broken screen, we provide services which can take care of all your technical worries. We believe in value for money policy. With our experts, you will not be forced to buy a new computer as we can fix or upgrade your system at affordable prices.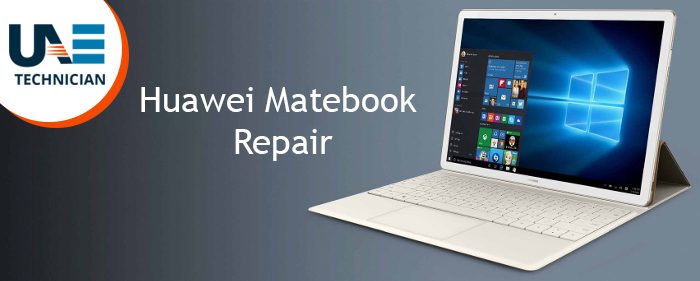 Huawei Matebook Repair: Only a Specialist Can understand Your Device Better
Our team of technicians has years of practical experience in the notebook repair industry. With state of the art infrastructure, advanced diagnostic tools, and comprehensive knowledge our engineers identify the problem and can offer you quality solutions. There can be several issues like a corrupt hard disk, motherboard glitches or power jack problems. We have worked on several cases due to which we have gained expertise in dealing with such issues. Following are the services which we offer:
Motherboard repair and replacement service
Motherboards are responsible for controlling hardware like firewire, audio, power, video, USB, and keyboard or touchpad. Our technicians first try to repair the parts to save you from a new purchase. Only after evaluating the situation where repair is not possible, we suggest for replacement.
LCD screen repair and Replacement service
Users can encounter a broken or a flickering screen by an accidental fall. We have expertise in saving your screen from the damage which can be removed. In case of total failure, we offer replacements too.
DC power jack repair and replacement service
Power jacks can become lose with time due to regular wear and tear. We can help you in fixing the jack and can also replace if the performance of the gadget improves by this solution.
Keyboard repair and replacement service
Accidental spillover or missing keys can interrupt your work. We can contain the damage and get back your equipment to a sound state in minimum time. You can ask for replacement too if you want a new keyboard.
Strike a winning edge and choose UAE Technician as your Service Partner
By serving multiple customers from distinct parts of Dubai, we have gained a reputation as the leader in the industry. With budget-friendly solutions which can offer productivity, we have been able to deliver satisfaction. When a customer opts for a service provider, it looks for some specific qualities. Following are the reasons for which you can choose us as your repair service partner :
Expert technicians help
Repair service warranty
Immediate technicians response
Guaranteed error repair services
Affordable solutions
24×7 repair support helpline
Contact our professionals today and get the best services within minimum time. No matter where your residence or working place. We are available for you 24×7 as our guidance is just a call away. You will get the complete solution for Huawei Matebook repair in Dubai by UAE Expert Technician Team.