Epson Printer Repair in Dubai, Abu Dhabi, UAE
Printing has given us freedom from writing documents again and again for making copies. Today, we can easily have as many prints with just a click. Now with advancement in technology, companies are coming up with more efficient product ranges. Epson is one of the leading brands which has presented a blend of unique features which are user-friendly as well. From individual to organizations, they have options for every segment of the market. But with regular use, it is possible that your machine may stop working or show technical errors. There can be several reasons behind it, and only a technician can help in such a scenario.
UAE Technician has experience of several years in providing quality repair solutions to consumers. With our vast network of service, we have catered customers from even far edges of Dubai. Our technicians will reach you always on time with best in class solutions.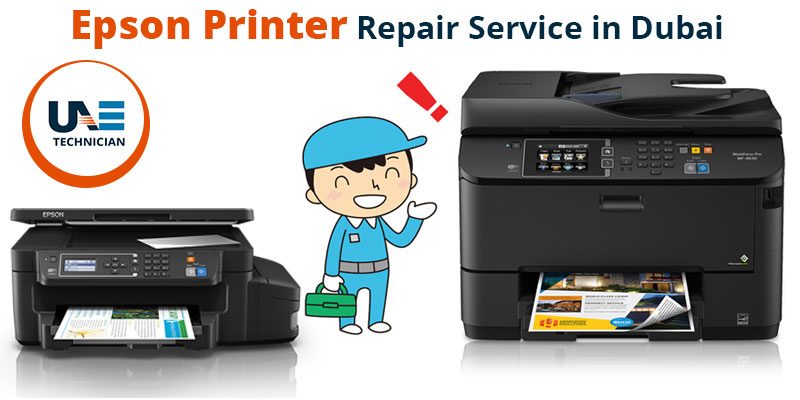 We value the importance of time when it comes to the failure of machinery that can halt your work. Quick response to your complaints and queries such as epson printer repair, is our promise and to fulfil it we have developed a system of 24×7 customer support. You can call us at any time of the day. Our experts will provide you with guidance and suitable solutions so that you can choose as per your budget.
Presenting Affordable Solutions without Compromising Quality is our 
Specialty:
Our team is competent in handling issues of any complexity level. This exposure has enabled us in designing solutions which are budget-friendly and efficient. To update their skill set, we provide them with regular training so that they can stay ahead of technological advances and be aware about latest skills. Following are the types of printers on which we have worked.
Business Inkjet Printers
Ink Tank System
Photo Printers
Dot Matrix Printer
Label Printers and Presses
Large Format Printers
POS Printers
Photo Lab
There can be many reasons behind poor performance or total failure of printers. Sometimes it is a faulty component, system error, or software issues. With our 100% track record of success, we can guarantee you that there is no technical problem which we cannot fix. From repair to replacement of equipment, we can be your one-stop solution for all printer repair needs. Following are the scenarios where we can assist you.
Installing Printer Drivers
Software problems
Driver problems
Frequent paper jamming
Printer plug and play errors
Cartridge alignment
Adding printers to wireless network
Hardware issues
Printer installation issues
Printer Cartridge Jam
To provide you convenient services, we offer on-site assistance. Now you don't have to leave your home as we will make sure you get quality solutions at your doorstep. By booking an appointment with our professionals through the helpline number:045864033 you can fix the time and location as per your choice.  If the diagnosis indicates that the problem can only be solved in our facility, then we will pick up the printing machine for treatment and will deliver it as per your selection of place.
Why should you Trust us?
Our customer base is based on the referrals which we have got from our existing customers. It is in itself a testimony of the solutions which we offer. We thrive on your satisfaction that is why we present you some perks which you can have if we become your service partner. Following are the benefits which you can enjoy:
Affordable price quotes
24X7 helpline support
Transparent transactions
Genuine parts
Pick and drop facility
Reliability
Quality assistance by experts
Technical facilities with the latest equipment
With deep network reach, we have served many customers from even far places in Dubai. If you are also looking for a service partner who can offer affordable, quality and productive solution on time for your Epson printer repair, then you can rest your search on us. We will make sure you get suitable solutions which worth your money and effort. Get the best Epson Printer Repair Services in Dubai by Us.
FAQ – Epson Printer Repair