If you are a hardcore fan of computer games and are looking to buy the Best Gaming Laptop, then you have come to the right place. This article lists the top 10 trending gaming laptops. With the advancement of technology, gaming laptops have evolved in leaps and bounds and there is no stopping. Powerful processor, high-speed RAM, and crystal clear screen with higher pixel density, there is nothing that you can take your eyes off from a Best gaming laptop. You can choose a Best gaming laptop based on three parameters which are portability, performance, and price. From the list of top 10 gaming laptops available in the market right now, check out which one suits your requirements and budget the best.
Best Laptop For Gaming 2018
Gaming laptops are a bit expensive compared to normal laptops. So, you need to take a good look at all the parameters before getting your hands upon one. The laptops are listed rank-wise for your convenience.
MSI GS65 Stealth Thin
Looking for an elegant and portable laptop? The MSI GS65 is your go-for-it laptop. Powered by Intel Core i7-8750H along with Nvidia GeForce GTX 1070 Max-Q GPU, you are assured of receiving a smooth experience of seamless gaming sessions. Boasting a RAM of 16GB DDR4-2400MHz and 512GB M.2 SSD storage, you are not going home disappointed. Moreover, the laptop also has a battery capacity of 82 Whr which is bound to last for a whole day after using emails, web browser and streaming of videos. The laptop costs around $3200 which is affordable considering the specifications that it has to offer.
2. Razer Blade 15
An amazing laptop with solid build and construction is what defines Razer Blade 15. Specifications of Razer Blade 15 are similar to the MSI GS65, the only difference being that Razer Blade 15 uses the GPU Nvidia GeForce GTX 1070 Max-Q, unlike MSI.
Razer Blade 15 boasts of a slim body and is acknowledged as one of the thinnest gaming laptops ever. Vapor Chamber cooling is another benefit of using this laptop. Razer Blade 15 has a fine aluminum body with sporty looks and is also flex-resistant. 80 Whr of battery capacity provides a long battery life which will entertain you for the whole day. Another noticeable feature is the presence of speakers on either side of the keyboard. The price of this laptop hovers around $4250.
3. Gigabyte Aero 15 X v8
Are you searching for a gaming device with long battery life feature for more hours of fun and games? Well, then Gigabyte Aero 15 X v8 is what you need. With a battery capacity of 94 Whr, now enjoy unlimited hours of endless entertainment and games. However, Aero 15 X v8 does not have such classy looks like the other two described above. But, Gigabyte Aero 15 X v8 is equipped with a 4K display, which is immersive and comfortable to your eyes. This device ranks third in our list, and it costs around $3900.
4. Asus ROG Strix GL503VS-DH74 Scar Edition
If portability is not your primary preference, then you can easily go for this device. The storage capacity of Asus ROG Strix GL503VS-DH74 Scar Edition beats the others that we have seen till now. This device has two storage specialty which is 256GB NVMe SSD and 1TB FireCuda SSHD and weighs around 5.6 lbs. With top-class looks, Strix GL503VS-DH74 Scar Edition has stolen the hearts of many passionate gamers. However, it must be noted that this device has a battery capacity of 64 Whr which means you have to keep your charger ready every time you wish to spend some time with this device. Performance wise, you cannot put away Asus ROG Strix GL503VS-DH74 Scar Edition even if you are forced to do so. The device also costs much lower than many other gaming laptops available in the market with a price tag fluctuating around $2000.
5. Acer Predator Helios 300
How can you forget about the Predator when you are talking about the best laptop for gaming?  Acer Predator Helios 300 comes with a whopping weight of 5.95 lbs. The grand factor about Acer's Predator Helios 300 is it's GPU  Nvidia GeForce GTX 1060 6GB. The 48 Whr battery capacity and 256GB M.2 SATA SSD storage capacity may put you in a dilemma, but it doesn't matter for such a super-affordable gaming laptop. The laptop has a price tag of $ 3200 against its name which makes it a budget gaming laptop that many gamers can easily rely upon.
6. Dell Inspiron 15 7567
Many will raise their eyebrows when they find out that we have included Dell Inspiron 15 7567 in this list. The reason for doing so is quite obvious. Sporting an Intel Core i5-7300HQ  processor along with 256GB SSD storage and 8GB DDR4-2400MHz RAM, the laptop specifications hardly match the other gaming devices listed above. Neither there is something to acknowledge its weight which values 5.76 lbs making it one of the heaviest gaming machines. But with a Nvidia GeForce GTX 1050 Ti 4GB graphics card and a 6-cell 74 Whr battery capacity, Dell Inspiron 15 7567 is the perfect device to play the less-demanding games. This device is also tagged as a great ultra-budget option with a price tag revolving around $ 2100.
7. Acer Predator Triton 700
Another one from the Predator series that makes our list is Acer's Predator Triton 700. Favorite among many professional gamers, it has what it takes to take your gaming to another level. The specifications of this laptop are Intel Core i7-7700HQ processor, Nvidia GeForce GTX 1080 Max-Q GPU and a very powerful 32GB DDR4-2400MHz RAM. This device can disappoint you with 256GB M.2 SATA SSD storage, 3-cell 54 Whr battery and 5.4 lbs weight. But mind you, if you take into consideration its performance, then this laptop can beat many top brand gaming devices. The laptop, despite being weighty, is portable and is inspired by sci-fi movies. The laptop contains an abysmal touchpad location, and so, an external mouse may become handy for you in this case. Acer Predator Triton 700 costs nothing less than $ 2650 in the laptop market.
8. MSI GT75 Titan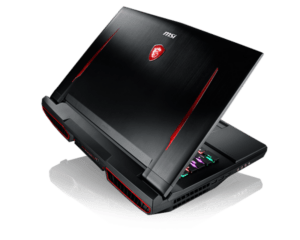 Another MSI that makes our list is the GT75 Titan. Although it occupies the 8th position in our list, it has some mind-boggling features that are ready to immerse you into a world of gaming. The device sports an Intel Core i7-8750H processor along with Nvidia GeForce GTX 1080 GPU and up to 64GB DDR4-2666MHz RAM. It also contains a storage capacity of 512GB M.2 SATA SSD, 1TB HDD, and an 8-cell 90 Whr battery. The pros of this device lie in its advanced cooling technology and a stylish mechanical keyboard. However, weighing around 10 lbs, this laptop is massive and heavy which affects its portability. Nobody can point their finger at GT75 Titan's performance and is loved by many gaming experts. The cost of this laptop is more or less fluctuating between $4750 to $5000.
9. MSI GF63 8RC
It seems like MSI has conquered our list for top 10 gaming laptops, right? There is nothing we can do about it as MSI GF63 8RC competes with Dell Inspiron 15 7567 for the best entry-level gaming laptop honor. The specifications of this device include Intel Core i5-8300H CPU, Nvidia GeForce GTX 1050 4GB GPU, 8GB DDR4-2666 RAM, 1TB HDD storage, 3-cell 51 Whr battery and weighs around 4.10 lbs. The features of this laptop are thin bezels and lighter weight than Dell Inspiron 15 7567 which make it much more mobile hence increasing its portability. The price of this laptop is very much reasonable valuing around $700, and this is mainly because of 1 TB HDD that it uses which asks for a quicker upgradation. So, if you are short on financial options but still want an efficient gaming laptop, then MSI GF63 8RC becomes your ultimate choice.
10. Alienware 13 R3
Last but not least, the Alienware 13 R3 makes this list as the number 10 gaming laptop. This device comes with various specifications which include Intel Core i5 – i7 processor, 8GB – 32GB DDR4 RAM and a varying storage capacity of 180GB – 512GB SSD. The screen is 13.3 inch HD OLED touchscreen. The OLED touch display of this machine is the feature that captures the attention of the gamers, and so, you can try this device if you are serious about the display. The laptop costs around $1600 which is reasonable and justifiable at the same time.
Choosing a laptop varies from user to user. It depends on what you are looking for, be it top-notch performance and gaming experience or the financial parameters. Hopefully, this article regarding gaming laptop support will help you to take the final decision. Share this article with others and let them know about the best gaming laptop in 2018. Comment below if you have any queries. We will sort it out in no time.