End Your Search For Affordable Washing Machine Repair Services

Washing machines come in many forms with a variety of features with them. Front-load and top-load washing machines are quite famous and come with additional features. While front-load washing machines are ideal for small laundry rooms, top-load washing machines are relatively cheaper than other washing machines. These are incredibly essential in our daily lives. Gone are the days of doing chores manually. These machines have significantly saved our time and energy and allowed us to focus on other things in life. However, washing machines can also be prone to malfunctioning from time to time. It is not surprising for a washing machine not to function appropriately after months or years of overuse. In that case, all you would need is a reliable washing machine repair service.
If you are in need of washing machine repair in dubai, you can trust our experts at UAE Technician to do the job for you. Our professionals are familiar with all the issues that can arise while you use a washing machine. They are well-equipped with the relevant knowledge and skills that are essential for washing machine repair, service and maintenance. Moreover, you can get our reliable solutions at a pocket-friendly budget.
We Provide Assistance In Repair of The Following Washing Machine Brands: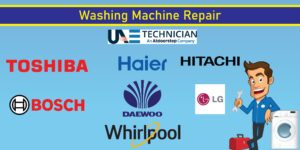 Though you take extreme caution while choosing your washing machine, do not expect it to be entirely free from troubles. Although multiple features are available in the modern washing machines, it is not unusual to experience certain technical glitches. We can help you out in getting rid of issues in the following washing machine brands:
Whirlpool Washing Machine
LG Washing Machine
Electrolux Washing Machine
Samsung Washing Machine
GE Washing Machine
Haier Washing Machine
Midea Washing Machine
Godrej Washing Machine
Siemens Washing Machine
Bosch Washing Machine
Panasonic Washing Machine
Speed Queen Washing Machine
Sanyo Washing Machine
TCL Washing Machine
No matter which brand of washing machine you own, you can face certain issues such as problems in the electric motor or in the spin and agitate cycles. In addition to that, you could also face problems with the timer of the washing machine. Also, problems could stem from the speed selector and water temperature switches and you require washing machine repair so that the work does not get hampered.
Common Washing Machine Repair Issues and Cost Estimate
| | | |
| --- | --- | --- |
| Issues | Competitor Prices | Our Prices |
| Noise Issues | AED 150 – 500 | AED 100 – 450 |
| Door Malfunction | AED 150 – 750 | AED 120 – 600 |
| Not draining | AED 150 – 600 | AED 120 – 500 |
| Not starting or tripping | AED 150 – 500 | AED 110 – 480 |
| Leaking | AED 150 – 750 | AED 150 – 600 |
| Water inlet malfunction | AED 150 – 600 | AED 150 – 500 |
*Estimated cost range can vary because of numerous factors, including cost of spare parts depending upon the brand.
Some Common Issues You May Encounter While Using Washing Machines
Usual washing machine issues can range from the washer not turning on to grinding noises. No matter what the issue is, it is always advisable to take action as soon as possible. Below are some usual problems that you may experience while using washing machines:
Samsung washer not spinning
LG water inlet valve
LG washer drain hose
GE 4.2 top load washer
Bouncing of Washing Machines
Unbalanced loads
Too much noisy
Improper & Slow Draining
Unusual Smell
The washing machine may not respond when you try to turn it on. This could be because of an overheated motor or timer knob problems.
You may also face drainage problems due to a clog in the needing hose or a jammed drain pump.
Another problem could be that your washing machine is not spinning properly because of being overloaded or due to a discrepancy in the settings.
Your washer may also leak water because of an issue with the fill hose or water-inlet valve.
In addition, your washer may not dispense detergents. The washer may also make buzzing noises because of foreign objects in the pump of your washing machine.
You can get the problem of the washer not finishing cycles. The washer can also vibrate thereby preventing its proper functioning.
Some users also complain about the issue of the washer's timer not advancing.
In case you are experiencing problems like these or some other issues, you can get in touch with our expert professionals. They will be able to correctly diagnose the issue and find effective solutions in no time.
Why Choose Our Experts For Effective Washing Machine Repair Solutions?
Our experts at UAE Technician are dedicated to maximizing customer satisfaction by providing you with excellent solutions and help with your washing machine issues. Our professionals have gained valuable experience over the years to be efficient at what they do. You can trust us with affordable Washing Machine Repair in Dubai for the following reasons:
24×7 customer assistance
Free consultations
Experienced and competent professionals
Prices as low as 89AED
Moreover, our experts are going to provide you with valuable tips to maintain your washing machine properly. We are aware of the standard we have created and strive to maintain it as well. Besides, we also excel in local washing machine repair as well.
Get In Touch With Our Experts By Dialing @: 045864033
In case you need expert assistance for washing machine repair services, contact our experts at UAE Technician. You will be able to reach to us through multiple ways. No more worrying about washing machine repair cost. You can avail it in the most budget-friendly rate.
You can either dial our helpline number: 045864033 or send us a detailed email. Also, you can chat with our executives via the live chat portal. No matter which mode of communication you choose, you will surely get expert assistance from us in your hour of need.
FAQ for washing machine repair :
What is the average cost to repair a washing machine ? 
The overall cost to repair a washing machine averages 500 AED to 800 AED . The average homeowner pays 200 AED for fixing a bad seal or faulty water level switch, both common problems. The lowest cost to fix washing machine issues like a damaged hose is 100 AED.
 Should I repair an 8 years old washing machine ?
Apparently a new washer won't stop working at all, after years the washing machine needs repair and replacement . Washing machine repair is recommended when the repair cost is less than 50 percent of a new machine's price.
How do I know if my washing machine clutch is bad?
Spinning action  of the washing machine decides , if it is unable to spin there might be chances that washing machine repair is required . 
What is the problem if my washing machine wont spin? 
If the belt mechanism is loose or slipped or the belt is damaged, it may not be spinning with enough force. If the belt is broken or fully off the rollers, then it won't spin at all. A washer that won't spin isn't washing.
What are the signs that my washing machine needs repair?
Common signs include unusual noises, leaks, the machine not turning on, excessive vibration, and clothes not being properly cleaned or spun dry.
How much does washing machine repair typically cost?
Repair costs can vary widely based on the issue. Simple problems like a clogged hose might be relatively inexpensive, while more complex issues, such as motor can be costlier. 
Is it worth repairing an old washing machine, or should I just buy a new one?
Deciding between repair and replacement depends on several factors, including the age and overall condition of your machine, the cost of repairs, and your budget.
How long does a typical washing machine repair take?
Simple fixes can often be done in a matter of hours, while more complex repairs might take a day or more.
Do you offer warranties on your washing machine repairs?
Yes, we provide warranties on both parts and labor for our washing machine repairs. Please inquire for warranty details.
What can I do to maintain my washing machine and prevent frequent repairs?
Regularly clean the lint filter, avoid overloading the machine, and use the right type and amount of detergent. Periodically inspect and maintain the machine to catch issues early.
How can I schedule a washing machine repair service with your company?
You can easily schedule a repair service by contacting us through our website, phone, or email. You may schedule an appointment whenever it's most convenient for you with the help of our helpful customer care staff.