Certified Mobile Repair Service Across Dubai
With the emergence of technological trends, mobile phones are gradually becoming the most essential part of our daily lives. Additionally, the latest smartphones are coming with enormous advanced features that have made our life easier.
Nowadays, mobile phones are used, more than just for calling and texting. Starting from booking a movie ticket to transferring money, you can do a lot more.
Sudden technical glitches can restrict you to use the device properly. And, mobile phone issues can not be solved without having any technical knowledge. So, it becomes crucial to avail technical assistance from the mobile repair Dubai service agencies.
And, if you are looking for nearby mobile repairing centers for technical support, UAE Technician is always there to assist you with prompt service. Additionally, we have teamed up with world-class professionals who can resolve every smartphone issue irrespective of its brand and model.
So, get in touch with our team of professionals who have decades of experience in mitigating every major-minor issue. Bring back the functionality of the device, resolve problems with DU mobile service and expand the longevity of smartphones with UAE Technician.
Mobile Repair Services that UAE Technician Offer
Every mobile phone performs at its peak for a fixed time period. And, after that, you might note there is a slow performance level and the system often bears abrupt crashing down. Thus, random glitches are very common for both the Android and iOS devices.
But, now you will get the privilege to fix the new as well as the old models of the smartphones only from UAE Technician. You get a wide array of DU Mobile services under just one roof and also you can avail the Samsung service center Dubai.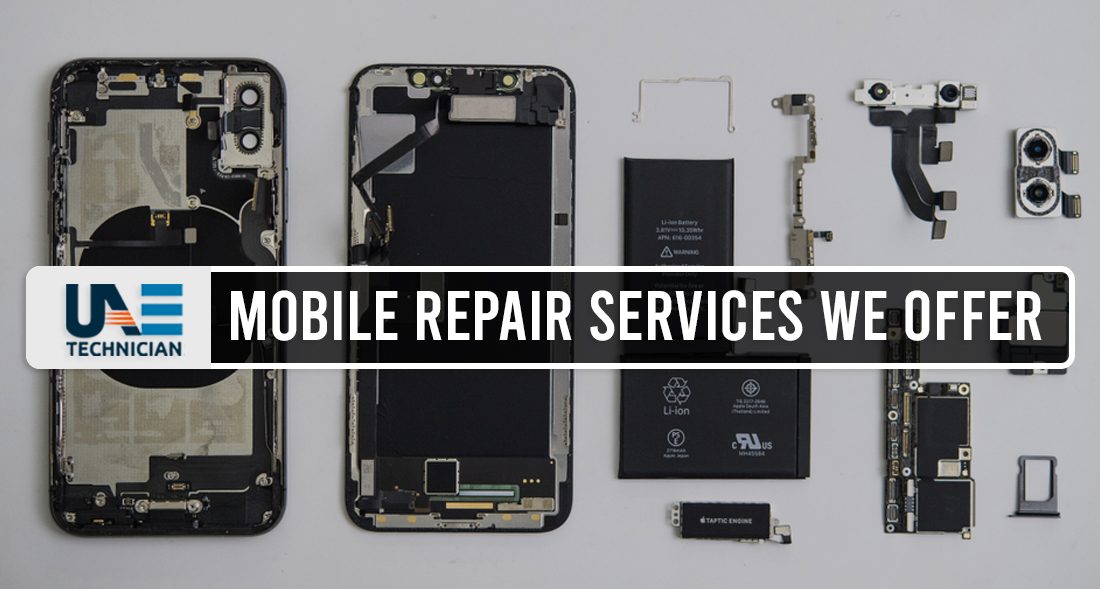 Besides, when it comes to mobile repairing, we offer a cost-effective service so that every native of Dubai can book our high-quality. Here, you get to choose the suitable service packages that fit your budget.
Moreover, the best and top-ranked mobile phone specialties are there to offer you a high-class experience. Whether you are struggling with single or multiple issues in the smartphones, avail our emergency services.
And, before you schedule an appointment with us, check the list of services that we are mostly known for offering, around UAE.
1. Digitizer Repair Service
Digitizer or touchscreens are the most sensitive part of any smartphone. And, this is mainly a thin transparent layer of plastic that passes information in the processing unit. Now, if this touch screen gets damaged somehow, it won't be able to read the signal that you are trying to provide.
But, there is nothing to worry about, as we have thousands of certified, experienced, and dedicated technicians who can efficiently repair digitizer issues with ease. So, get hold of one of our associates to avail a convenient mobile repair service at your doorstep.
And, here we are addressing the common issues that can damage the LCD digitizer.
Cracked screen
Blues on the touch screen
Black spots
Horizontal lines
In these instances, you won't be able to control the device or access the touch screen anymore. And, if you are running out of time, we will help you get instant i-phone screen repair Dubai.
Sometimes, not setting the glass cover properly can become an obstacle while using the touch screen. So make sure, it has been installed properly with professional guidance. You need to replace the covers through us.
Additionally, when the software that controls the touch screen becomes corrupted, it becomes a major problem. So, let us know when you come across any hurdle. And, we can repair every type of touch-screen digitizer including passive, active, and dual.
2. Battery Replacement
A drained or damaged battery can be replaced. Additionally, the smartphone lasts for 2-3 years. And, if it is maintained properly, it can last even more than that.
But, there are several reasons for which the batteries of smartphones can get damaged, such as:
One of the major reasons is overcharging.
Besides, if you use the device while charging, the battery will get damaged.
Water damage or any physical damage can corrupt the battery.
So, being one of the top-notched mobile phone repair service agencies, we provide you with a healthy tip: Don't use the phone while charging it, to safeguard the battery.
Need to replace the battery? Join with UAE Technician. We are associated with reliable and dedicated professionals who will help you get the assured and guaranteed battery set for the required model of the smartphone.
Get onsite battery replacement service with a layer of warranty period within discounted prices.
Whether the battery is not charging or it has completely stopped working, it can be quickly revived with our proficient guidance.
Besides, we take the minimal cost for offering high standard phone battery replacement service.
We can repair every type of phone battery and this includes:
Lithium Polymer
Li-Poly
Lithium-Ion
We assure you that all our customers get the entire replacement process at just their place. They don't have to come over at our service to replace the battery. Thus, with the UAE Technician, you get the chance to replace the battery while sitting at home or office.
3. Front and Rear Camera Repair
The latest models and branded phones come with high-quality and high resolution. And, with the help of these high megapixel cameras, you get to enhance your photography skills. Furthermore, nowadays pop up cameras are quite popular in the market.
But, at any point in time, the front and as well as rear cameras can get broken or cracked. And, unwanted scratches or spots on the camera can disrupt the pic quality. Hence, it requires immediate intervention of the professionals.
With us, you get an opportunity to bring back the performance of both the front and rear cameras. Here are steps that our professionals opt for before repairing the issues:
They will first critically diagnose the filters and the damages.
Successfully recovered all the camera issues for any renowned Android and iOS devices.
And, after the inspection, we will check if it needs to be replaced.
And, we have gained a huge reputation for service. Our registered customers compliment us for receiving genuine and authentic camera parts. Even some of the smartphones now come with triple cameras, we can repair and replace that as well.
4.    Dock Connector and Charging Port repair
Broken charger ports and dock connectors can cause severe problems on smartphones. So, it is suggested not to apply DIY hacks to resolve such critical issues. And, UAE Technician is the largest Samsung service centre Dubai, which explicitly handles such issues with the help of skilled professionals.
Additionally, the technicians are highly trained to repair and replace the old dock connector with a new one. We ensure that the additional plugs are not torn, or else you won't be able to charge the devices. But, there are certain symptoms you might get because of the damaged dock connector of the smartphones.
Here are some of the possible causes that can destroy the dock connector and charging port:
Sudden contact with any liquid can damage the charger port
Broken or damaged pins
And, when such issues occur in the smartphone, it will automatically stop responding even after plugging it in in the right charging port. So, if you are struggling with any of the mentioned signs, call us. We will help you to overcome all the dock connectivity and charging port problems swiftly. No more hassle, our experts will reach you on your mentioned time to fix the encountered problems.
5. Headphone Jack Repair
Have you recently broken the headphone jack of your mobile? Then, UAE Technician is the right place for you. Because we have joined with a team of efficient professionals who offer the best possible solutions to fix any type of branded or any variant of headphone jacks.
Moreover, for a broken jack, you won't be able to listen or enjoy any videos or play music on your phone. Apart from that, it will be hard for the game freaks, who need the headphones for better audiovisual advancement. You can also try to locate us through our promising Samsung service centre Dubai.
UAE Technician covers every type of headphone jack that is available in the UAE Market. Here are some of the major types of headphone jacks that our professionals can deliberately repair:
50 mm headphone jack
55 mm headphone jack
33 mm headphone jack
35 mm headphone jack
If you are using the headphone jacks for a long time, the sleeve, tip, and ring can get damaged. Additionally, if there are any wiring issues or damaged headphone socket, you won't be able to receive any sound.
Our expert professionals will fix these issues in just a day. We understand how important a headphone is in our daily life, so UAE Technician offers same day service. You get to fix the broken parts on the same day of booking itself only from our Samsung mobile repair Dubai.
6. Phone Power Button repair
A broken power button is the most troublesome error that can occur in a smartphone. And, because of the faulty power button, you won't be able to turn on the device. And, as a result, you won't be able to perform anything even after charging it
So, it becomes crucial to fix the damaged power button. UAE Technician repairs every power button for different models of smartphones. Be it an Android or iOS device, resolving power buttons issues has become easier with the UAE Technician.
And, the power button of any smartphone can get damaged due to the following reasons:
If somehow the phone is dropped, the internal components of the power button will get broken.
Additionally, frequently or unnecessary usage of the power button can damage it.
Starting from repairing the power button sensitivity issues to restoring the power functionality, our professionals can deal with every part of it. Avail the best phone power button repair service in Dubai through UAE Technician. Moreover, we are available round the clock so that we can mitigate youtube every smartphone-related requirement.
7. Phone Housing Replacement
One of the major parts of a phone is its housing. A proper housing provides a high-quality control process that helps to run the device more smoothly and effectively. And, if you are looking for professional support to repair the damaged phone housing system, we are the one-stop to offer that. Simply, search "Mobile repair shop near me" and book a service with UAE Technician.
Additionally, when it comes to phone housing, it always needs to be replaced rather than repairing. So, it is suggested to replace it as early as possible.
Moreover, phone housing is one of the critical systems that require a lot of time to recover. But, our phone specialists have extensive knowledge about the power housing system and can accomplish the entire replacing job in less time and effortlessly.
8. Sim Reader Repair
No matter which model of phone you own, it will surely need a SIM card and a SIM card reader. And, with the help of the SIM card readers, you can swiftly insert your SIM card and plug it onto another smart device like a computer or laptop.
Moreover, SIM card readers help to read the media files that are stored within. And, this indicates that you can remove/ receive the lost messages and media files and even contacts in your phone using just a sim card reader. But, these SIM card raiders can get damaged easily.
Because they are fragile and since the SIM cards are smaller in size, the problem becomes more evident. Moreover, smartphone users mostly use sim card adapters to insert their nano or micro SIMs into Micro-SIM.
So, if you have damaged the SIM reader somehow, get it repaired from UAE Technician. Being one of the recommendable SIM reader agencies, we can resolve every issue related to it.
9. Speaker not working?
There are certain common errors that can occur at any point in time in the speaker of smartphones. And, this includes issues such as you won't be able to hear anything whenever you will turn on any audio field or videos on the phone.
And, there are two possible reasons for which these issues can get triggered. One is the software glitch, for which the external spikes will stop responding. And, on the other, physical damage can lead you to this error.
Additionally, there are several other causes that can cause problems in speakers, such as:
Broken wires
Faulty boards
Internal issues
Try to reboot your phone first and then disable the Bluetooth next. Now, check if the error is fixed. And, if it does not resolve the speaker problems, hire our dedicated professionals and get a high-end outcome in repairing the speakers of Android and iOS devices.
10. Volume Button Repair
Another major part of a phone is its Volume button. And, like the other components, it also has a limited life expectancy. No elements of a smartphone can last long if it is frequently used. And, the volume button is not an exception among them. So, if you come across any issues with the volume button, get associated with UAE Technician.
Additionally, if you are getting issues while turning on the volume, this indicates the volume button has broken or damaged somehow. Mostly, overusing the volume button can disconnect it from the interior part of the phone.
Moreover, even a slight fault movement can make the button dysfunctional. So, if you have inconsistent volume issues, don't think of getting a new phone. Because the volume buttons can be easily fixed.
Our veteran and authorized professionals will help you to get rid of the issue. At first, they will inspect the problem thoroughly and then proceed with repairing it. And, within an hour, you can again use the volume button on your smartphone.
11. Phone Unlocking
Are you unable to unlock your phone? Have you forgotten the password or lock pattern? Then, unlock it with the UAE Technician. Simply, search "Mobile repair shop near me" and from the provided search result, select the top-ranked service provider i.e. UAE Technician and book an appointment with us now.
Because, if you are unable to unlock the phone, it will be hard for you to perform all the necessary work. Additionally, the phone will be repaired with the help of the professionals who have relevant experience in this domain. And, they can unlock the phone without deleting any of your essential files or documents. Get easy access to the best technician in Dubai through UAE Technician.
12. Screen Repair
A cracked or broken screen can not be repaired. And, thus it becomes essential to replace it. So, if you have recently broken the display screen of your phone, our dedicated professionals can replace it at an affordable price. Moreover, a crooked screen can lead to more damages. Additionally, a well-maintained display screen has more resolve value.
The certified professionals will arrive at your mentioned place with genuine screens for your phones. Accidental screen damages are skillfully handled. But, if you have any other damages on your phone, we will bring the phone to our service center to fix that.
13. Charger Replacement
UAE Technician can replace the damaged chargers of your phone instantly. Because we understand the importance of a charger. So, we will deliver the product as early as possible. You just need to mention the model and brand of the phone that you own and leave the rest to us.
With the exposure of multiple cases associated with a malfunctioned charger, our professionals have gained an insight which helps them to develop the charger replacement services in Dubai.
Overheating or frequent use can even damage the new chargers. So, to protect the charger from getting damaged, we will additionally help you with some preventive tips that will help you to expand the lifespan of the charger.
And, in case of wiring sinuses, you will definitely require an expert. Our professionals can adequately solve every problem related to the Android and iOS chargers.
14. Software Repair and Update
At times, you might get unexpected bugs after a software update on both Android and iOS devices. Additionally, the phone might start responding slowly, and there are other technical glitches, that you might notice after an update. Simply, search "Mobile repair shop near me" and choose UAE Technician.
Here are some of the major issues that are quite common for every smartphone user:
High battery consumption
Connectivity issues
Overheating
Playstore/AppStore crash
Downloading issues and many other
And, we have solutions for every software update and installation errors. Additionally, if you are unable to update the latest Android or iOS version, we will help you to get that. Within a few clicks, you can resolve every critical and hard to solve problems. With the help of right and compatible tools, you get quick system repair solutions. Also, you can avail promising DU mobile service.
15. Liquid Damage Repair
Liquid damage takes place when accidentally water or other liquid comes into contact with the non-water resistant smartphone. Water damages can easily be retrieved. UAE Technician can accurately fix all the liquid damaged phones, irrespective of its brand or model.
Our professionals will first opt for an in-depth diagnosis of the problem and check what components are needed to be repaired. And, based on that, they will repair or replace the water damaged parts at the earliest. Besides, if it is necessary they will repair every major component of the phone to make it workable.
16. Unable to Unlock Phone?
You might have some easy hacks to unlock it, but without any technical knowledge, it is almost impossible to get rid of such a problem. Moreover, there is a high possibility that you might get entangled with other major problems on your phone.
So, let the professionals intervene in these issues. Because they have been dealing with these for years and have acquired immense skill to tackle such hurdles. So, unlock your phone now by just contacting UAE Technician. We will help you to get the best phone repair specialists who can prevent such problems with efficiency.
Brands and Variant of Devices We Assist
UAE Technician covers almost every model of Android and iOS devices. So, you can rely on us every time you face any major-minor issues on your phones. We also deal with DU mobile service. And, before booking our professionals, go through this list of the phone brands and models that our professional technicians deal with.
Choose the Devices that suits Best
There are several Android phones that are highly available in the market. Additionally, most of the natives prefer Android phones than iOs devices, because it is more affordable, comes with swift connectivity issues, functionality, and is quite easy to operate.
Variants we Assist
Now, let's look at the exclusive range of renowned devices that we repair.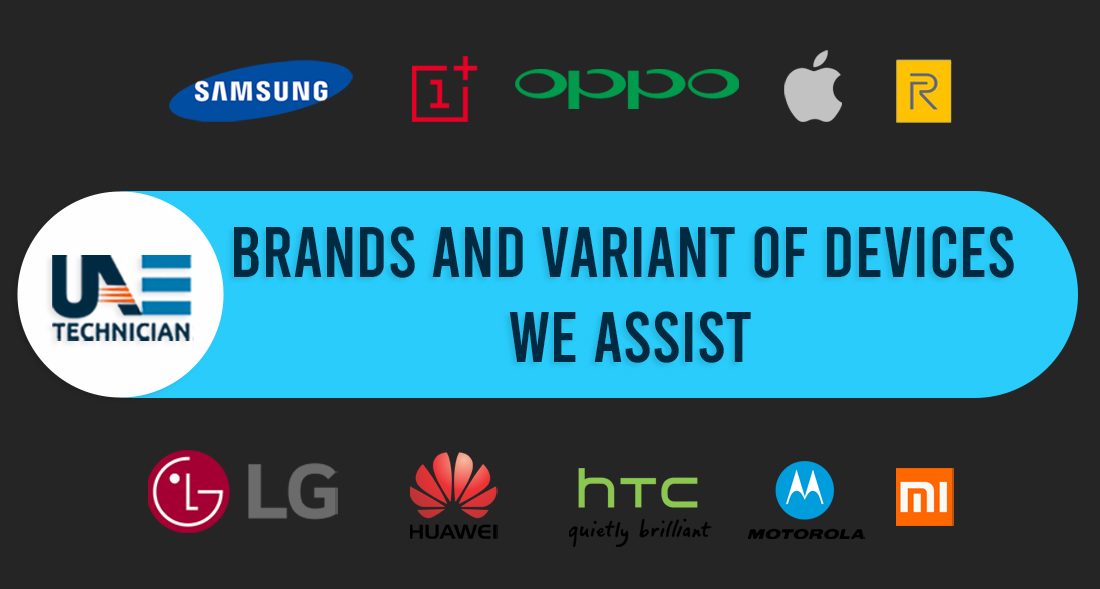 Samsung
Samsung Galaxy A21s
Galaxy A71
Samsung Galaxy A20s
Samsung Galaxy J2 Core
Galaxy M11
Samsung Galaxy A31
Galaxy A50s
Samsung Galaxy M30s
Galaxy Note 10
Samsung Galaxy M40
Galaxy A80 and many others
HTC
HTC Desire 12s
U12 Life
HTC Wildfire X
Desire 12+
HTC Desire 12
Desire 628 Dual SIM
HTC One M9+ Prime
Desire 828
HTC One A9
Desire 820a
HTC Desire 825 and other series
Huawei
Huawei Y9s
Mate 30 Pro
Huawei Y9 Prime
P30 Lite
Huawei P30 Pro
Mate 20 Pro
Huawei P Smart
Nova 3i
Huawei Enjoy 8
Nova 3e and other variant models
LG
LG G8X ThinQ.
W30 Pro
LG W10
W30
LG G8s ThinQ
Q9
LG V40 ThinQ
Candy
LG Q Stylus+
V30+
LG G6+ and other diversified modules
Motorola
Motorola One
One Vision
Motorola One Power
One Macro
Motorola One Zoom
One Hyper
Motorola One Fusion+ and other models
Xiaomi
Xiaomi Mi 10 series.
Mi 9
Xiaomi Mi 9T and Mi 9T Pro
Poco X2/Redmi K30
Xiaomi Mi Note 10
Redmi Note 9 Pro and 9 Pro Max
Xiaomi Mi A3
Redmi Note 8T and other top-rated models
Nokia
Nokia 7.2
Nokia 5.3
Nokia 6.2
3 Nokia
Nokia 1
3 Nokia
Nokia C2
C1 and other branded Nokia phones
Oneplus
OnePlus 8
7T Pro
OnePlus 8 Pro
7T Pro McLaren Edition
OnePlus 7
5T and Oneplus 6
X and Oneplus 2
Oneplus 3 and many others
Oppo
Oppo A12
Reno 3 Pro
Find X2
Oppo A31
Oppo F15
Oppo A5 2020
A9 2020
Reno 2Z
Oppo Reno 2
K3
A1K, and Oppo A5s
F11 Pro and other
Realme
Realme 5
6
Realme3i
C2
Realme C3
X2
Realme 5i
5 Pro
Realme C11
X3
Narzo 10A and so on.
Sony
Sony Xperia XZ2
Xperia L2
Sony Xperia XA2 Ultra
Xp[eria XZ2
Sony Xperia XA2
Xperia L2
Sony Xperia R1
Xperia XA1 Plus
Xperia L1
Honor
Honor V30 Pro
V30
Honor 9X Pro
9X
Honor Magic 2
8S
Honor 10 Lite
9N
Honor 7A
V10
Honor Holly 4 and other variant series.
iOS Devices
iPhone 11 pro
11 Pro Max
iPhone 10x, 10 Plus, XR and 10 Max
6 Plus
iPhone 6S
6S Plus
iPhone SE
3GS
iPhone 4
5C
iPhone 5 and other latest models of iPhone
Why Choose Our Mobile Repair Services across Dubai
Being one of the prominent service providers in Dubai, UAE Technician has gained massive recognition. Additionally, our service is entirely customer-oriented and our prime aim is to expand the longevity of mobile phones. Additionally, you get to reduce the expenses of repair with our assistance.
Communicative Response
All the associated professionals have excellent communication skills. Additionally, they have expertise in different languages, so that they can make you understand the entire repairing process.
Diligent and Professional
We have joined hands with dedicated technical experts who work their best to offer you an outstanding result. Additionally, they are sincere, professional, and have high specialization in mobile repairing.
Effective Repair Solutions
Get hold of the professional technician to repair your phone instantly from UAE Technician. Additionally, they strive for excellence when it comes to offering suitable reaper solutions. You get all your requirements served at an affordable price.
How Do We Work?
In UAE Technician, all the repair and replacing works are conducted by highly trained experts who take the utmost care of every branded phone. Apart from that, you get expert advice before the repair work.
We will guide you with a suitable solution that will make the devices more smooth and functional. Besides, our professionals can repair multiple phones in just one day. And being the best-rated i-phone screen repair Dubai, we can resolve every iOS device as well.
We don't take extra charges for delivering the general parts of the smartphones.
Moreover, we keep every shared detail safe with us.
Apart from that, our prime concern is to fix smartphones as early as possible.
We highly value all your mobile repairing related queries and requirements.
Moreover, we offer a warranty on the repaired phone products.
Our customers get 24*7 assistance through our support executives.
How Can You Join Us?
Once you get aware of the service that you want to avail, book an appointment at your convenient time and day. Search "Mobile repair shop near me" and, to join with UAE Technician, call us at (*****). Additionally, you can drop an email in our official email ID (********), addressing your queries regarding our service.
Frequently Asked Questions
How much does it cost to repair a smartphone?
The mobile repair cost will be decided on the number of parts that need to be repaired. And, for repairing a single part or component of mobile, the service price will be less than fixing the entire phone. Besides, UAE Technician, being one of the renowned mobile repair service companies, is well-known for offering premium quality service at low prices.
Can you repair the damaged display screen of my iPhone?
The cracked or damaged display screen of a smartphone needs to be replaced. Because it can not be repaired further. Let us know whenever you need our help. We will reach your mentioned address with the required display screen of your phone. Simply, mention the model and brand of the phone you own, and our technicians will be there with the required tools and technologies to serve a superlative service.
Is it possible to fix the charger for my phone?
A faulty or damaged charger can be troublesome. And, when it comes to owning a smartphone, a charger is the most essential thing that is required to keep the device effective and workable. So, if you are unable to charge your phone, call us. We will exchange the damaged charger within the least possible time.
Is a phone worth repairing?
Whether some parts of the mobile are broken or the entire phone has stopped working, repairing is the only solution to this issue. And, UAE Technician, can resolve every problem that can be encountered in a smartphone. So, before thinking of getting a new phone, it will be always a wise decision to repair it from our professionals.