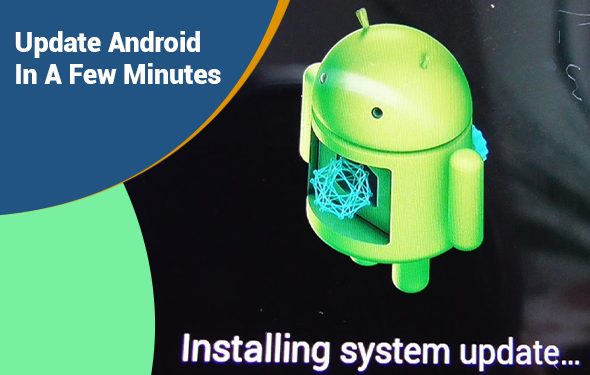 Android operating systems are much in use at present. In fact, it is the most widely used Operating System. Notwithstanding the fact that it is the most advanced OS, we must remember that Android needs frequent updating. Be it a phone or a tablet, keeping an Android OS upgraded is a must if only we want to ensure the security of our data. However, having said that, it is also a fact that not many of the users are familiar with the procedure of updating Android.
Therefore, if you are one of them, don't be discouraged. You are certainly not the only one. There are thousands on the line. However, there is nothing for you to worry as we are here to help you. In this article, we shall offer a proactive guide to go about the process of updating your Android OS. Therefore, if you don't know how to update Android, shed away your doubts and read out this article thoroughly.
Why Do You Need To Update Android?
Before moving on to the methods, let us first know the need to update Android. First off, if you have an updated Android OS, you can enable the lastest and the most advanced features. Besides, you will need to update your Android if you are currently running an older version. In case you are using an outdated tablet or phone, then sometimes, the OS that you are using might not be supported by your mobile operator. Thus, there are endless reasons why an updated version of the Android Operating System is necessary.
In order to update your Android OS, you need to first examine whether your Android is up to date or not. To do so, you need to ensure that the Android Update is available in your device. Normally, you are given a prior notification if an Android Update is at all available for you. However, in case you have missed it or omitted it in disregard, getting it back again from the Settings Menubar is no big deal. You need to simply access the notification bar and press the cog button in order to reach the Settings. Thereafter, you need to choose System from the drop-down menu. From System, select System Update and 'Check for Tables' thereafter.
How To Update Android? Easy Fixes For You
If you don't know how to update OS in Android, we are there to help you out. Besides, there is nothing much to worry about as the process is pretty easy. Doing it manually is, therefore, no big deal. Follow the guidelines listed below:
Connect Your Android OS To WiFi:
First and foremost, you need to secure the connection of your Android to a WiFi and not your phone data. You may also have to charge your Android device before updating it.
Access Android Settings:
In order to access the Settings Menu, you need to reach out to the bottom of your screen and click on the Settings icon.
Click on 'System':
Once you reach Settings, you need to scroll further down and click on the System icon. The option is located at the lowest end of Settings.
Access 'About Phone'
The option is situated right at the bottom of the Settings Page. However, if you are using an Android Tablet, you will have to click on the About Tablet option instead of About Phone.
Click On 'Update':
You are likely to trace it within the About Phone option itself. You might as well have to click on the Check for Updates icon to locate the available updates. After this, you need o simply follow the screen instructions and give some time for your Android to complete the process of update.
Please note that the above steps are only applicable if you update your device from phone Settings. In the section below, we shall discuss how to update OS in Android by other means.
Updating Android OS Using Computer
In order to update Android, you can also make use of the Rooting device. It is undoubtedly a very effective process. All you need to do is root your Android phone. This will offer you easy access to Updates quite easily. The instructions are discussed below:
First, you have to download the Root application on your PC and install it thereafter.

Following this, you need to run the application and connect your Android device to your PC by means of a USB cable.

Once done, you should root your phone as per the instructions prompted to you.

Finally, after the completion of all the above steps, restart your phone in order to access the newest version of the Android OS.
Updating your Android OS is not that difficult provided you correctly follow the guidelines we mentioned. Therefore, if you are still wondering how to update Android, your answers are now at your fingertips. So, wait no more, try out the strategies mentioned above and stay updated.