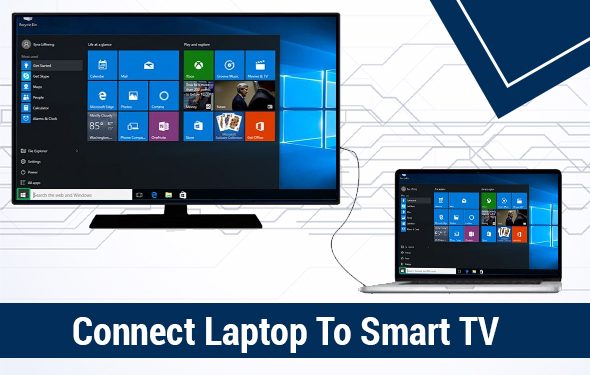 Smart TVs are a beauty to behold with screens so large and advanced and enhance our experience to watch movies or shows. So, on one hand, you've got a laptop with a high-speed internet connection and on the other hand, you've got a big screen TV. But how will you experience the change if you don't know how to connect laptop to smart TV? Therefore, refer to this article as your ultimate guide to connect your laptop to a smart TV. With ease-to-go solutions, you can resolve your woes in a jiffy!

Learn How To Connect Laptop To Smart TV in An Instant

There are typically two ways to connect your laptop to the smart TV. They are:

If your laptop has an HDMI output port, you can use an HDMI cable. If not, there are converters, say a VGA to an HDMI converter.

Most Window laptops have the ability to act as window media servers. Then you can share movies and songs from your laptop to your TV with the help of Wi-Fi.

How To Connect Laptop To Smart TV Wirelessly?
Assuming, you have a smart TV with WiFi; it is extremely easy to connect the laptop with a smart TV without a cable. It requires three simple steps:

Step-1:First of all, you need to make TV WiFi accessible on the laptop, kind of like a hot spot. T You may want to refer to the Operation Manual of TV for finding out how to operate it.
The next step is for setting the laptop. Assuming, you have Windows 10 as your primary system for connection; we'll answer this. Although, you can apply these steps to any system.

Step-2:Find the WiFi of your TV, in the Connect to menu located in the system tray and connect to it. Provide the password if needed. Again, you can take help from the TV Operating Manual. Select the network type: Home Network

Open Start.

Type "Media Streaming Options"

Click on the first result.

Select Show Devices on "Local Network"

Click Allow All.

Now in, "Media Programs on this PC and remote connections": Allowed.



Step-3:Now, for streaming media, you need to add the folders into a library. For this, let's take an example of your music collection.
Put the music files you want to play on TV, in a folder in your hard drive. Now, from the top menu or just right-click on the folder for other systems, select include in library>Music. Thus, the connection is set up properly.

Next, start Windows Media Player. Select the song or playlist you want to play and in the PLAY tab, on the top right corner, you will find an option saying, Play to:

Select the TV from that list and your job is done.



Related Post: How to clean LED TV, Dubai UAE
How To Connect Laptop To Smart TV Via HDMI?

This is a wired method that helps you to connect your laptop to the smart TV. Using the HDMI port, it becomes quite easier to connect a laptop to the TV and any other HDMI accepted the device. It comes at a very reasonable price and you can get HD quality display without any interruption. You just need to connect the HDMI cable to the ports of both the laptop and smart TV. In this new generation laptops, the HDMI port is automatically available, so it makes things more simple to obtain. Follow the below instructions to connect your laptop to the smart TV using HDMI cable:

First, power on both your laptop and smart TV.

Plug in the HDMI cord to the ports on both of your laptop and smart TV.

Now, select the HDMI channel with the help of your TV remote.

If it connects then okay, if not, then go to the Control Panel and click on Display. Then, select Adjust Resolution to manually modify the settings as per your requirement.



Contact UAE Technician For Further Queries
Using the above procedures, you'll be able to connect your laptop to the smart TV and enjoy your movie or video on a larger screen. In case you fail to complete the task and still looking answers for how to connect laptop to smart TV, then you can freely call us. Our UAE Technician experts can easily bring out the solution and get your job done in no time.
Related Post: TV Repair Service in Dubai